About EK&R
In 1982, the law firm of Ellis, Koeneke & Ramirez, L.L.P. embarked on a mission to offer and provide full-service representation to its clients in both litigation and transactional matters. Since 1982, the firm's litigation practice has grown from the representation of financial institutions and oil and gas companies in commercial disputes to include a full-service litigation boutique for both plaintiffs and defendants. In 2002, the firm spearheaded nationwide litigation against a large, multinational accounting firm for its sale of improper tax avoidance products to consumers.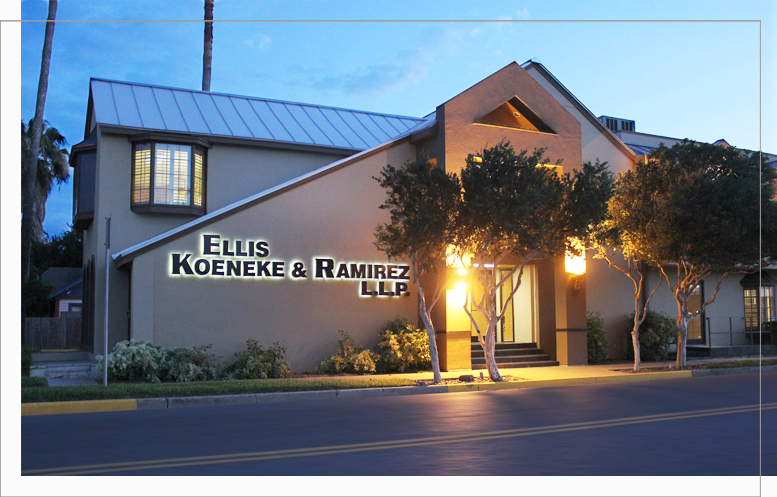 ---
Remaining true to its original heritage, the firm has continued to provide estate planning, probate and business entity advice to is clients under the direction of two attorneys who have attained Board Certification in Estate Planning and Probate. The firm strives to maintain a balance between litigation and transactional services for clients in South Texas, Texas, and the United States. The firm is proud to represent individuals, family business enterprises, and Fortune 500 companies to meet their legal needs. The firm provides representation to clients on specific matters and does not categorize itself as a "plaintiff" or "defense" firm. The firm has assembled a diverse group of attorneys in order to provide clients quality legal service. Preparation and passion are key principles at Ellis, Koeneke & Ramirez, L.L.P.

LEGAL SERVICES
Located in McAllen, Texas, Ellis, Koeneke & Ramirez, L.L.P., offers full legal services to its clients with its general civil litigation and transactional practice. Ellis, Koeneke & Ramirez attorneys have represented their clients' interests in civil litigation matters in both state and federal courts throughout the State of Texas.
The transactional practice of the firm features two Board Certified Attorneys in Estate Planning and Probate Law, and offers a variety of services in Estate Planning, Probate, Real Estate, and Business/Corporate Organizations.

OVERVIEW OF CIVIL LITIGATION PRACTICE:
Commercial Litigation, Probate Litigation, General Civil Litigation, as both Plaintiff and Defendant, Administrative Law, Appellate Law, Banking, Business, Corporate Reorganization, Bankruptcy, General Collections, Employee Benefits, Employment, Environmental, Insurance, Oil and Gas, Real Estate, Tax, Personal Injury and Toxic Torts.
TRANSACTIONAL PRACTICE:
Estate Planning, Trust and Estate, International Estate, Corporate/Business Entity Formation and Organization, Business (Stock Sales/Asset Sales) transfers, Real Estate, Creditors' Rights in Bankruptcy; Health Care/Elder Law Issues and Tax Planning Issues.
OUR CLIENTS
We are proud to represent a diverse group of clients that include corporations, small businesses and individuals.